Lady Tie Di's Eclectic Emporium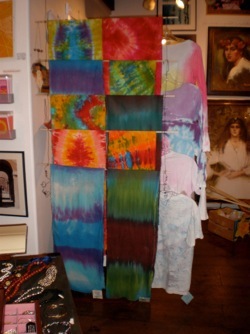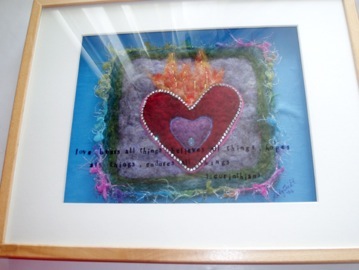 Tie Dyed Clothing
Accessories
Jewelry-
Beaded,
Silver,
Found object,
&
Fabric
Refashioned Wearables
Sculpted Figures
Art to Hang
Needle Felted works
Groovy stuff
for
you and your life...
Much of my art is serendipitous- I use what I find around my studio, around my yard, the beach or even the parking lot of the tire store. One never knows where inspiration may spring from, so pick it up and put it with the rest of your flotsam until the right elements come together. Now that's my idea of fun!

    I believe that's why I enjoy tie dying so much- the element of surprise. You may have a vague idea of what it should look like but you will never have total control (I don't want it!)   

    Here are colorful clothing and accessories hand-dyed, painted, printed or the method de jour combined to brighten up your life (some available online but mostly in person at my studio). Adornments include found-object, beaded, fabric, metal and any number of other compositions to add the perfect accent to your already perfect ensemble.

    Clay figures, montages, needle felted images and a plethora of other crafts spill out of my brain and fingers at regular intervals that I hope will amuse you. Below is just a sampling...
Check me out on social media to find upcoming shows and my latest ideas:
Call for an
appointment to come
by
my studio here in 
Cambria to see what's
in stock
(805) 927-4805
email me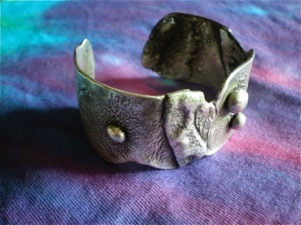 Reticulated Sterling Silver Jewelry
I've grown quite fond of this technique for working with silver! It involves heating flat sterling stock and quenching it several times until the fine silver comes to the surface, wrinkling and puckering it. I like heating it to breaking and just fusing it back together. I call this particular sample (my first attempt) my "Life" bracelet- put it to the fire, watch it come apart repeatedly, heat it up again and see what you finally get!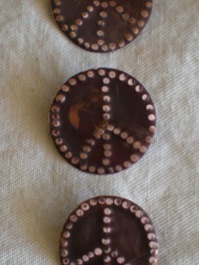 1 inch, hammered copper peace signs
involve cutting the circles of metal from sheet, forging designs into it, giving a flame patina and then attaching a pin back. Ironically, one can get a lot of aggression out whacking on these! Very fun and no two are alike.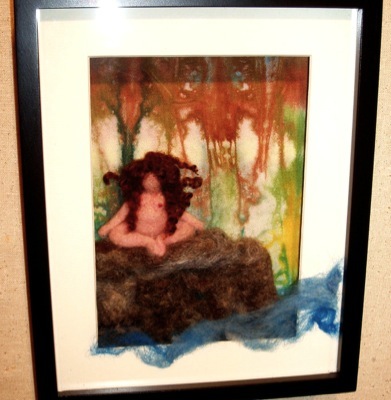 "Earth Momma"
Needle felted wool with tie dyed canvas in 8 1/2 x 11" box frame" :
Needle felting is a relatively new craft, using single barbed needles to punch at wool fleece or roving until it takes the shape you want. One may make three dimensional shapes as I've done here or "paint" with the wool to create images.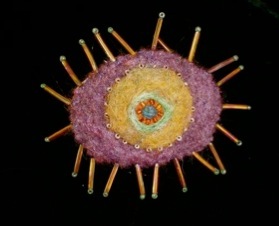 T-shirts start at $10. Baby clothes and other types of garments are priced according to materials and processes used.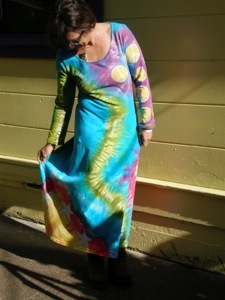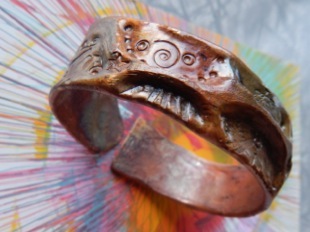 This technique sounds like an Anime event- Air Chasing! This bracelet starts out as a length of copper pipe, is heated and then hammered and heated again repeatedly until the hills and valleys and texture you desire are achieved. Lots of work but I love the organic feel of these pieces plus one gets the health benefits of copper by wearing them!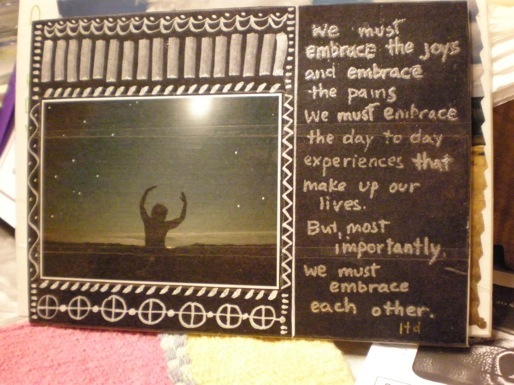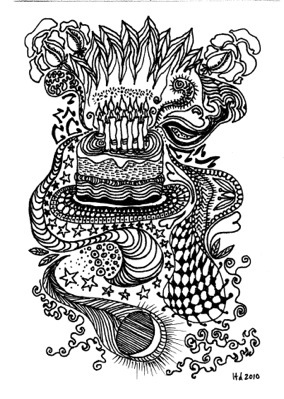 I've come to find out that my life-long form of doodling may be referred to as "Zendoodling" (I believe that's a copyrighted name). I just set my pen to paper and let my mind loose. I've got several designs like this one (birthday cake) made up into cards.
I occasionally make up photo collage cards like the one above (various themes) and have them available for sale as well as simple notecards like the doggies below.
"I shut my eyes in order to see."

Paul Gauguin