Lady Tie Di's Eclectic Emporium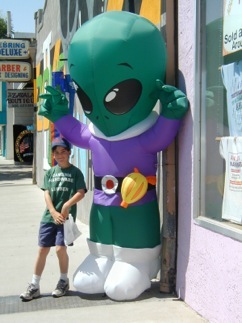 Please feel free to contact me directly through the following avenues. Need (knead? hahahaha) a massage, need voice work, something you'd like to buy but want to know more about or anything else on this site, or just to say "hi," I want to hear it! 

Old School Mail (which I love dearly): 
P.O. Box 545, Cambria, CA 93428

    The following is simply a sample of resources and inspiration. Most of these folks I know, many are services or suppliers I myself use, some I just like a lot. Hey, just wanna share the luv, man.

For dying and fabric art supplies, I order from Dharma Trading Company. They're fast, efficient, friendly... every time-
www.dharmatrading.com

Look to the Tribune if you'd like to check out the latest news in San Luis Obispo County or
find archives of "The Cambrian" and my columns-
http://www.sanluisobispo.com

 Cambria has had a little market in its west village on Main Street since the 1920's, Soto's Market. It's had several owners and philosophies since then and most recently it has evolved into the absolutely delightful health food store, Soto's True Earth Market.
I am honored to be able to offer my chair massages there on a weekly basis. Great folks, great food, great health up ahead!
https://www.facebook.com/sotostrueearthmarket/ 

Cambrians are lucky in so many ways- beautiful, natural surroundings, wonderful people...and Cambria Beads on Main St. in Cambria. Bodhi is an absolute dear, very knowledgeable and her supplies will keep you happy and busy for ages!
https://www.facebook.com/Cambria-Beads-182860141758660/

I am a proud member of Allied Arts of Cambria because not only do they help organize and show off many of the incredible talents here in Cambria but support the arts in the schools as well-
http://cambriacenterforthearts.org

One cannot but stop and stare at all the amazing pieces of redwood amassed outside Will Scroggins' shop here in Cambria, and well-you-should stop to appreciate his work!
www.moonstoneredwood.com

Geez, Harry Farmer and I've been friends for, how long now? Aside from being a good friend, he's an absolutely astute astrologer, doing your charts or teaching you how to follow your own star-
www.hfastrologer.com

Why she doesn't have a million dollar recording contract yet is beyond me, but Jill Knight's voice and songwriting skills are well worth checking out-
www.jillknight.com

So, you say ya wanna know more about this little hamlet I live in? Well, find out most of what you need to know by going to their website-
www.cambriachamber.org

If you want a truly well-crafted, handmade in the good ol' U.S. of A electric guitar then do yourself a favor and check out Joe Till's beauties online and down in Westlake Village, California. A meticulous woodworker and extremely talented musician, he knows how to make you happy... musically!
http://www.joetillguitars.com

Call, write or text your BFF because OMG, this is by far the most unique, coolist, most artistic, wildest little bed and breakfast on the face of the planet... I kid you not! The proprietors are equally fun!!!
www.victoriaslastresort.com/

Being a fiber artist at heart, first and foremost, Cambria is fortunate to have what I'm sure is the friendliest, most knowledgeable and well-stocked yarn store in the world....I'm not biased because I used to do chair massage there. Really. Check them out!
http://cambriayarn.com/bswp/

I have known Janet and Heidi Huff for...golly, many, many years and can speak to the quality management they maintain on all vacation rentals. Wonderful homes to fit any need AND they're lovely to deal with! Give them a call if you want to get out of Dodge with a family, a big group or if you just want to rattle around!
http://www.cambriavacationrentals.com/?gclid=CPqe__G80cUCFYgAaQodbzwApQ

For a remarkably painless web building session with creative insight, respect and sensitivity to your needs (meaning PATIENCE!), 
ya gotta contact Kaiya!
http://www.hangarbay94.com
"Forgiveness liberates the soul."
Nelson Mandela